Investing In Their Success
Our founder said it best — our team members are our greatest competitive advantage. We only succeed when they succeed, which is why we invest in them every step of the way.
Competitive Pay
For our frontline team members, a job in our restaurants provides tremendous opportunity. Across all our brands, our hourly team members earn, on average, more than $22 per hour, which includes tip income. In January 2022, we increased the minimum hourly earnings for restaurant team members to $12 per hour, inclusive of income earned through gratuities.
All Darden Brands
| Job Title | Avg. Hourly Rate* |
| --- | --- |
| Bartender | $34.01 |
| Server | $27.30 |
| Culinary | $20.55 |
| Kitchen Utility | $17.04 |
| Busser | $18.86 |
| Host | $16.80 |
*As of May 28, 2023, inclusive of income earned through gratuities
Each one of our restaurants is a multi-million dollar business, and they are led by a General Manager (GM) or Managing Partner (MP). Not only is their leadership critical to running their business successfully, these women and men are responsible for cultivating our culture and bringing their brand to life every day. It is the most influential role in our company, which is one of the reasons why 94% of our GMs/MPs are promoted from within. On average, these leaders earn total cash compensation of approximately $100,000 annually and have an average tenure of 13 years.
The GM or MP leads a team of three or more restaurant managers. These managers are responsible for leading the culinary team, the service team, and other front-of-house areas such as the lobby, bar and off-premise dining. More than 60% of our restaurant managers are promoted from our hourly ranks, and their average total cash compensation exceeds $60,000 annually. Their average tenure is eight years.
---
Comprehensive Benefits
We invest in programs that provide differentiated opportunity for our team members so they can be their best, including:
Access to Health Benefits – Eligible team members can choose from a wide variety of plans, coverages and insurance carriers to meet their needs and those of their family
Paid Sick Leave – One hour for every 30 hours worked
Paid Family & Medical Leave – Up to two weeks to care for self, a spouse, a child or a parent
401(k) Savings – Team members 18 or older may contribute up to 75% of their pay on a before- or after-tax basis
Stock Purchase Plan – Eligible team members may purchase Darden stock at a 15% discount
Employee Assistance Program – Team members may utilize support services including counseling, financial education, legal support and other life needs to enhance their overall well-being
Dining Discount – Team members enjoy a 25% discount at our restaurants, including up to seven guests
Team Member Investments
We are proud of the employment proposition we have built and we continually look for ways to strengthen it. Over the past five years, we have invested more than $350 million in initiatives directly benefiting our workforce.
Among the investments:
More than $15 million in subsidies to keep team member medical premiums from rising
More than $10 million to provide Paid Sick Leave to hourly restaurant team members
$17 million to provide a one-time bonus for hourly restaurant team members in appreciation for their hard work and dedication through the height of the COVID-19 pandemic
$18 million to provide a one-time grant of Darden's stock to General Managers and Managers in recognition of their leadership throughout the pandemic
Increasing the minimum hourly earnings for restaurant team members to $12 an hour, inclusive of income earned through gratuities
Adding new benefits such as Fast Fluency, a program to offer Spanish-speaking team members the chance to learn English
More than $125 million in various programs to support our team members during the COVID-19 pandemic, including:

Emergency Pay for hourly restaurant team members who were furloughed when our dining rooms were required to be closed
Payment of benefits premiums for hourly restaurant team members who were furloughed when dining rooms were closed
A daily stipend for hourly restaurant team members able to work while our restaurants operated as ToGo only to help cover transportation, child care and other unanticipated costs
Paid time off for hourly restaurant team members to receive the COVID-19 vaccine
I have such respect for how Darden treated team members during the pandemic. The company really came through for us with the Emergency Pay program. I feel so grateful to be with a restaurant that supports its team members.
---
Incentives
Recognizing and rewarding performance is an important part of our results-oriented culture. We have several programs designed to recognize the contributions of our restaurant leaders, and their teams, to our company's overall success.
One is our Long-Term Incentive program for General Managers and Managing Partners. These restaurant leaders are rewarded in the form of Darden Stock Units (DSUs). DSU grants are awarded annually at levels based on performance against established metrics. The DSUs track with the price of Darden stock and are paid in cash when they vest.
Our Operations Leader Bonus program rewards the entire restaurant management team for their performance against financial goals for the year. The bonus is based on an annual target amount and is paid out quarterly.
Our Diamond Club program recognizes the top-performing restaurants across each of Darden's brands. Only the top 5% of restaurants are awarded Diamond Club status. Restaurants can achieve Diamond Club status when they excel in retaining team members, delivering exceptional guest experiences and achieving financial success. Hourly team members and managers at winning restaurants receive a cash bonus, and the GM/MP, and their guest, are honored at an exclusive, VIP celebration held at a unique resort setting.
---
Training & Development
Every year, we teach thousands of people a lifelong skill: how to succeed in the workplace. We spend $40 million annually on our robust training program, and it begins immediately, regardless of role. As team members grow with us, so does their training.
New team members participate in a structured training program to help them learn more about their brand, their role and our expectations. On-the-job training is provided by Certified Trainers ⎯ team members who have completed certification to train others ⎯ who teach new hires the ins and outs of the job. On average, new team members receive 40-80 hours of training (depending on their role) through video and hands-on instruction.
Part of that instruction includes all team members, and managers, completing Darden's food safety and sanitation training. In addition, every manager is required to attain food safety manager certification through the National Restaurant Association's ServSafe program, and it must be renewed every five years.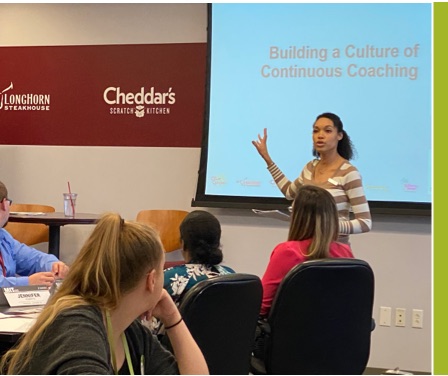 Each year, approximately 1,000 hourly restaurant team members are promoted into management. As part of the process, participants complete our in-depth, Manager in Training (MIT) program. The program focuses on how to run a restaurant as well as leadership development and business acumen. It culminates with a week of classroom and hands-on instruction at our Restaurant Support Center (RSC) in Orlando that includes separate leadership conversations hosted by Darden's CEO and our Chief People & Diversity Officer. (As a result of the pandemic, the week that typically takes place at the RSC is currently being held virtually.) Training for new managers is not limited to the MIT program. Restaurant managers receive approximately 600 additional hours of training during their first year in the role.
Our GM/MP Leadership Experience is a two-day learning program that focuses on critical skills needed for GMs/MPs to lead their team and achieve results. The program is focused on helping GMs/MPs transition from leading an area of responsibility to leading an entire restaurant and their management team. Through instructor-led classroom learning and role play scenarios, attendees focus on topics such as Building Culture through Inclusion, Hiring for Success, Coaching Managers, Managing Difficult Situations, and Growing Sales & Improving Profitability. The program concludes with a Q&A session hosted by our CEO. (This program is typically held in person, but is also being conducted virtually due to the pandemic.)
Each year, our brands hold their annual leadership conference known as GM Conference or MP Conference. These events, which enable our brands to share their business plan and build excitement among their teams, also feature general sessions and breakout groups geared toward the continued development of GMs and MPs. They also allow Darden's executive leadership team the opportunity to engage directly with these leaders and listen to those closest to the action.
---
A Win-Win...
We know our team members are our greatest competitive advantage, and our industry-leading retention rates confirm we have created a compelling employment proposition. But we know there is always room for improvement. So we will continue to work to do the right thing for our team members every day. Because we know that when our team members win, our guests win.